Miles Exploratory Learning Center
Announcements
School Schedule
School Hours:
8:00 am – Earliest arrival
8:15 am - 8:45 am – Breakfast Service
Elementary

9:05 am - 3:25 pm – Mon, Tues, Thurs, Fri
9:05 am - 2:25 pm – Wed (Early Dismissal)

Middle

9:05 am - 4:10 pm – Mon, Tues, Thurs, Fri
9:05 am - 2:35 pm – Wed (Early Dismissal)
If absent, please call 520-225-2202 to alert our attendance clerk. Arizona State Law requires that you report all student absences.
Fax: 520-225-2201
What Makes Us Special
Miles takes a collaborative approach to education, involving parents, faculty and the community in decisions about the school. Students also work together in the classroom. Multi-age, multi-level classrooms allow students to stay in the same room for two to three years. This helps them build confidence and enables teachers to offer more challenging material as children progress. Students with hearing differences are co-enrolled in all grade levels.

The goal at Miles is to create a community of learners. Reading, writing and math skills are developed through hands-on activities and inquiry-based instruction, and programs such as fine arts and the school's Green Project enhance the school's curriculum.

All students at Miles come through open enrollment.
Meet and Greet – August 2, 2023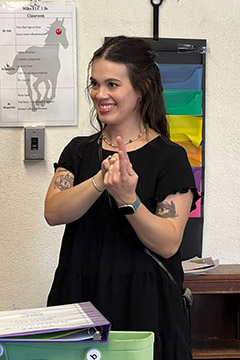 Families visited schools and students met their teachers throughout this week, such as
at Robison & Miles.